SUMMARY OF THE FOREST MANAGEMENT PLAN OF PASIN MANAGEMENT UNIT (PERIOD 2018-2027)
The Forest Management Plan (FMP) for Forest Timber License FTL No. T/3135, Pasin Forest Management Unit has been approved by Forest Department Sarawak on 22nd October 2019 [Ref:(54)JHS/600-3/7/110/Jld.2], summary of the approved FMP as follows:
Chapter 1: Background of the Management Area
Pasin FMU has a total area of 132,151 ha. The Batang Rajang forms the northern boundary while the Kapit FMU borders it to the east. The western boundary is bordered along Sg. Katibas till it reaches the Lanjak Entimau Wildlife Santuary (LEWS), which straddles the international boundary of Kalimantan, Indonesia.
Approximately 50% of the FMU is located in the Heart of Borneo (HoB), a government and NGO supported programme led by the World Wide Fund for Nature (WWF), to conserve the biodiversity through a network of protected areas, sustainable management of forest and other sustainable land uses.
Pasin FMU is accessible by express boat from Sibu town via Batang Rajang to Sibu town which take two (2) hours. The FMU base camp can be reached by four-wheel drive vehicles for another one hour on government tar-sealed and privately owned and maintained, non-sealed logging roads.
Social Impact Assessment indicates that Pasin FMU and its adjacent area are currently inhabited by 112 settlements with total of 2,318 households.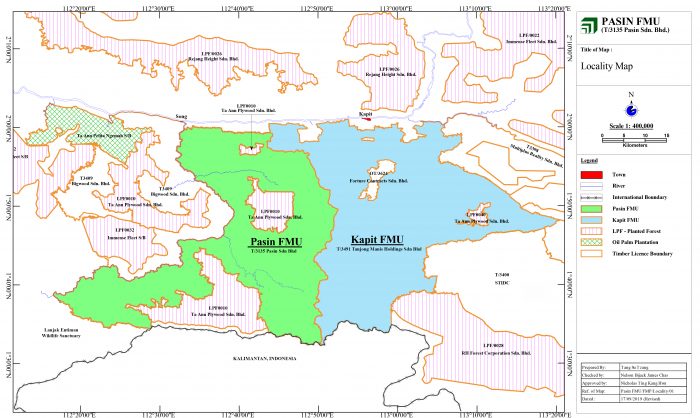 Chapter 2: Forest Resource Assessment
Forest Resource Assessment for the FMU was carried out in 2017 on a systematic grid over the whole productive area of the Pasin FMU. From these grid points, a total number of 82 Sampling Units (SUs) were recorded. One of these SU is located in Terrain IV, therefore not included in the analyses.
The AAC calculation is based on simulation runs with FORMIND analysed by International Forest Management Consultants Sdn Bhd (IFMC). FORMIND is a model for the simulation of the growth of natural tropical rain forest stands with a standard size of one hectare. The result of the analysis:
with a cutting cycle of 25 years, a minimum of 3 harvested trees per hectare, a maximum of 6 harvested trees per hectare and at least 1 harvestable tree per hectare reserved as mother tree, resulting in an average harvestable volume of 28.73m3/ha.
preliminary Annual Allowable Cut (AAC) is 102,915.457 m3 per annum.
Chapter 3: Management Plan Prescription
General management objectives of the management of the Pasin FMU to fulfil the policies of the government are as follows:
a) The forest planning shall be based on the sustainable forest management principle through balancing the need to be economically viable, environmentally sound and socially acceptable forest operations.
b) The forest shall be managed with the objective to maintain and / or enhance the integrity of forest ecosystem functions and strengthen their self-renewal capacity. The appropriate silviculture method shall be implemented to enhance forest timber stocking and its quality.
c) The forest management approach shall be directed to optimize the productivity of the timber and non-timber products, taking into account the restriction and the need arises from conservation efforts and social-economics requirements.
d) Continuous participatory stakeholder consultation to facilitate and support management planning, implementation and monitoring process of forest management.
e) During the course of plan implementation, continuous efforts shall be undertaken to improve and achieve its objectives, thus contributing to the sustainable development for the multiple benefits of all stakeholders in the forest management unit.
In line with the requirements of Forest Department Sarawak (FDS), the management system in Pasin FMU shall following the cutting rules and cutting limits set by FDS.
Dipterocarp species – 50cm and above;
Non-Dipterocarp species – 45 cm and above
The forest operation shall adopt Reduced Impact Logging (RIL) harvesting system.
Division of coupes for Pasin FMU is shown in table below.
Coupe number
Year of operation (year)
Operable area
(ha)
Shifting agriculture (ha)
Terrain IV (ha)
Buffer zone (ha)
Gross area
(ha)
1
2018/2019
5,645
0
43
0
5,688
2
2019/2020
3,494
718
39
0
4,251
3
2020/2021
3,436
1,279
149
0
4,864
4
2021/2022
3,647
861
42
0
4,550
5
2022/2023
3,689
1,436
8
0
5,133
6
2023/2024
3,588
1,620
0
0
5,208
7
2024/2025
3,802
5,254
0
0
9,056
8
2025/2026
3,989
1,493
0
0
5,482
9
2026/2027
3,606
746
0
0
4,352
10
2027/2028
3,370
0
0
0
3,370
11
2028/2029
3,595
1,048
0
0
4,643
12
2029/2030
3,483
0
84
0
3,567
13
2030/2031
3,312
0
77
0
3,389
14
2031/2032
3,755
0
29
0
3,784
15
2032/2033
3,523
0
28
0
3,551
16
2033/2034
3,529
390
33
0
3,952
17
2034/2035
3,653
0
0
1,014
4,667
18
2035/2036
3,619
2,817
0
0
6,436
19
2036/2037
3,575
0
0
483
4,058
20
2037/2038
3,769
825
57
0
4,651
21
2038/2039
3,756
3,173
59
0
6,988
22
2039/2040
3,804
3,034
61
0
6,899
23
2040/2041
2,506
0
18
1,046
3,570
24
2041/2042
2,703
0
0
705
3,408
25
2042/2043
2,706
1,196
0
1,157
5,059
Sub-total
 
89,554
25,890
727
4,405
120,576
Net operable
89,554
Shifting Agriculture (SA) inside coupe area
25,890
Shifting Agriculture (SA) outside the coupe area
11,481
Buffer zones – International boundary and TPA
4,405
Terrain Class IV
727
River area
94
TOTAL
132,151
Chapter 4: Forest Roads for Harvest System
Planning procedure for the forest roads and harvesting system will be in accordance with the Forest Engineering plan. This shall be conducted in two main stages; The General Harvesting Plan (GP) and Detailed Harvesting Plan (DP)
Chapter 5: Pre-harvest Activities
Infrastructure Development – Construction and maintenance of roads, drainage structures and bridges in accordance with the "Guidelines for Forest Road Layout and Construction. The management will construct new staff quarters, an administrative office, as well as repair old existing infrastructure such as the workshop and living quarters.
Demarcation – Boundaries for Coupe, Block, area for protection and conservation shall be demarcated before pre-felling Inspection.
Operational Inventory and Tree Marking – 100% tree enumeration for the Harvestable tree (HT), Protected trees (PT), Potential Crop Tree (PCT), Mother Tree (MT), Fruit Tree (FT) and Nesting tree (NT).
Infrastructure – Planning of Landing Sites and Skid Trails shall be conducted as per "RIL Guidelines"
Monitoring and Control – by Sarawak Forestry Corporation (SFC) through Permit to Enter Coupe (PEC).
Chapter 6: Harvesting Operations
Training of Forest Workers – shall be done in accordance with the Section 51 of the Forest Ordinance, 2015.
Harvesting methodology – shall comply with "RIL Guidelines" with the use of excavator cable yarding/winching.
Tree Felling – Directional felling to minimize damage.
Post-Harvest Activities – include installation of cross drains and sedimentation traps and 10% sampling of post-logging assessment, i.e. logging damage assessment and enumeration of the residual stand.
Measurement, Royalty Marking and Tagging of Logs – CoC will be implemented as per requirement under DF Circular No. 1/2014 and DF Circular No. 1/2017.
Chapter 7: Environmental And Social Impact Assessment
Environment
An environmental impact assessment (EIA) of the timber harvesting operation within Forest Timber Licence No. T/3135 was carried out by Ecosol Consultancy Sdn. Bhd.. The EIA Report has been approved by NREB on 8

th

December 2017 with reference number (15)NREB/6-3/2F/92.
Mitigation measures:  solid waste management, control of soil and sedimentation, protection of water quality, road safety and management of socioeconomic impact.
Social
The management of Pasin FMU has commissioned an independent consultant ECOSOL Consultancy Sdn Bhd to conduct the social evaluation through consultation on the social impact of forest operations directly affecting the communities.
Socio-economic positive impact – generation of employment, generation of business opportunities and uplift local community economic status.
Chapter 8: Forest Research
The FMU has committed to three (3) main research collaboration with the Applied Forest Science and Industry Development (AFSID) Division of SFC for the establishment and assessment of PSP, Leibniz Institute for Zoo and Wildlife Research, Germany, to investigate the spatial characteristics of mammalian biodiversity in the FMU and UNIMAS to gather and analyse the relevant information on the dynamics, occurrence, occupancy and the distribution of terrestrial medium to large mammalian species near salt licks in the FMU.
Pasin FMU has entered into a scientific collaboration with Sarawak Forestry Corporation (now taken over by Forest Department Sarawak) to establish permanent sample plots. To-date two PSP has been established in Pasin FMU.  This reseach collaboration also cover Kapit FMU and Raplex FMU of Ta Ann Group.
Forest Resource Assessment (FRA) has been carried out with the establishement of 81 FRA sampling units (SUs).  The objective of the FRA is to obtain an overview of the stocking situation in the whole productive area of Pasin FMU.  In order to be able to continuously monitor the forest stand and growth development over long periods it is necessary to convert certain SU to Permanent Sample Plot (PSP).
The selection of the PSP from the FRA SU was carried out by means of the Ranked Set Sampling Method.  The RSS Sampling Method has recommended 27 PSP to be established according to the FRA-SU number listed in the table below:
| | | |
| --- | --- | --- |
| RSS Sample Size | No of PSPs Selected | List of PSP numbers (Previous FRA SU number) |
| 3 | 27 | 3, 9, 14, 18, 22, 25, 27, 31, 34, 38, 40, 45, 46, 51, 54, 58, 61, 63, 70, 71, 75, 82, 83, 88, 90, 95, 97 |
Chapter 9: Silviculture, Forest Rehabilitation and Reforestation
Kelampayan Enrichment Planting – to improve the stocking and growing volume of production forest.
Rehabilitation of open/highly degraded area
Climber and vine cutting
In the future, Pasin FMU may apply other silvicultural methods based on the recommendation of Forest Department Sarawak/Sarawak Forestry Corporation or based on the results of research and studies pertaining to the FRA, PSP, pre-harvesting inventory and post-logging assessment.
Chapter 10: Wildlife Management
Wildlife management plan:
Control of hunting through the implementation of Circular No. DF 6/99 – Wildlife Conservator and improvement of gate control.
Education and preventive measures – promote awareness to forest workers and local communities.
Identification and protection of fruit trees, nesting trees and salt licks during Pre-harvest Operation and directional felling of RIL operation.
Appointment of Honorary Wildlife Ranger – to assist wildlife officer in conducting awareness programmes and monitoring of poaching activities.
Chapter 11: Management of Conservation Areas
| | | |
| --- | --- | --- |
| 1 | Non-commercial or poorly stocked area | Low stocking area will be mapped and excluded. |
| 2 | Permanent Waterway | Identification and demarcation based on the recommended width of a riparian buffer zone in the approved EIA by NREB. |
| 3 | Steep Slope | Identification and mapping of steep terrain within Pasin FMU will be made based on IFSAR data interpretation for steep slope >35°. |
| 4 | Water Catchments | Identification, mapping and ground demarcation for protection (gazette and community). |
| 5 | International Boundary and Totally Protected Area | Protection buffer zone of one (1) kilometre width. |
| 6 | Critical Resource and Sites | Protection buffer zone of width 100 meters around the identified critical resources and sites to be demarcated and map. |
| 7 | Research Plot and Permanent Sample Plot | Permanent sample plot (PSP) established by FMU shall be protected with a 50m buffer around the plot perimeter boundary (subject to research treatment). |
| 8 | Community Use Area and Cultural / Religious Sites | Protection and demarcation of area for community use area shall be identified using community consultation with free, prior and informed consent. |
| 9 | Potential Tourism Area | Recreational and tourism potential shall also be identified and demarcated. |
| 10 | High Conservation Value Forest | The area identified as protected area would be delineated on the map and demarcated on the ground. |
Chapter 12: High Conservation Value Forest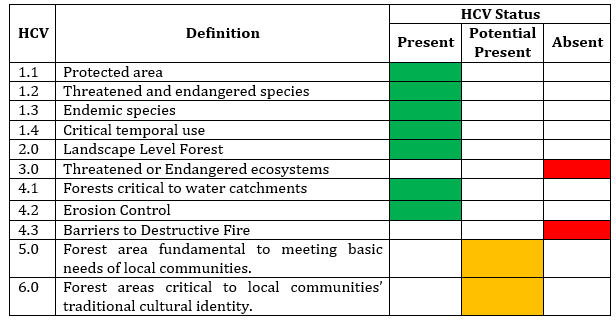 Chapter 13: Community Relations and Worker's Rights
The objective of community development would be to:
Contribute to local communities through development projects, services and employment opportunities.
Instil awareness between communities and company about shared responsibilities in achieving sustainable forest management (SFM).
Create a mutual relationship with the local community through the establishment of Liaison Committee.
To ensure the rights of workers as outlined in Convention 29,87,98,100,105,111,138 and 182 of the International Labour Organization (ILO) Conventions.
Community
Establishment of Committee Representative Committee (CRC)
Establishment of Forest Management Certification Liaison Committee
Worker
Establishment of Employer and Employee Representative Committee
Chapter 14: Occupational Safety and Health
The commitment and vision towards safety and health are clearly reflected in the Occupational Safety and Health Policy.
Joint Safety and Health Committee have been established with the objectives to:
To reduce the risk of accident and ensure safe working conditions.
Keep the procedure in line with all applicable laws and regulations.
Instill awareness through briefing and training.
Management will invest in training of its forest workers to improve their quality of work and to carry out their duties safely.
(updated: 3 Nov 2020)