In line with the directive from the State Government for all Forest Timber Licenses (FTL's) to undergo certification in Sustainable Forest Management (SFM), Ta Ann has consolidated its FTL's and Licences for Planted Forest (LPF's) in the Song-Kapit region into three (3) Forest Management Units (FMU's) namely, Kapit FMU, Pasin FMU and Raplex FMU. They are compliant with the Criteria and Indicators of the PEFC-endorsed Malaysian Timber Certification Scheme (MTCS). We currently have 3 active FMUs that are fully-certified and they cover an area of over 340,000ha.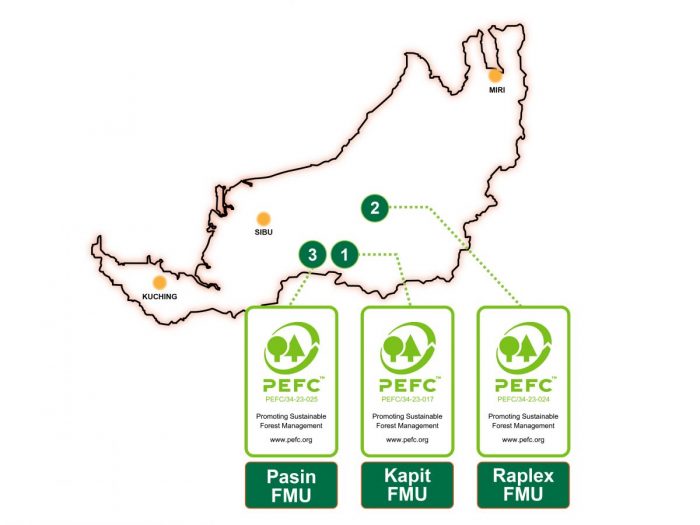 Pasin FMU is covers an area of 132,151 hectares (ha) and is located in the district of Song within Sarawak. The FMU operates under the Forest Timber Licence (FTL) No. T/3135 issued to Pasin Sdn Bhd, a 100% subsidiary of Ta Ann Holdings Berhad and Hariwood Sdn Bhd is Pasin FMU harvesting contractor. 22% of Pasin FMU is located under the gazette Protected Forest (PF), 28% under the proposed Protected Forest and remaining 50% is currently under Stateland Forest.
Pasin FMU is accessible by express boat or four wheel drive vehicles from Sibu town which take around 3-4 hours to reach base camp. Approximately 50% of the FMU is located in the Heart of Borneo (HoB), a government and NGO-supported programme led by the World Wide Fund for Nature (WWF) to conserve the biodiversity through a network of protected areas, sustainable management of forest and other sustainable land uses.
The Pasin FMU contains undulating topography and is mountainous to the south where it meets the international boundary with Indonesia, with altitudes ranging from 75-880 m above sea level (asl). Most of the terrain ranges between 300-600 m a.s.l.
Pasin FMU and its adjacent area are currently inhabited by 112 settlements. Ethnically, most communities living inside Pasin FMU are Iban.
Pasin FMU has been awarded certificate for Forest Management (Natural Forest) under the Malaysian Timber Certification Scheme (MTCS), a scheme endorsed by the Programme for the Endorsement of Forest Certification (PEFC).  The certificate was awarded by SIRIM QAS International Sdn Bhd on 16 March 2020 with a validity of 5 years.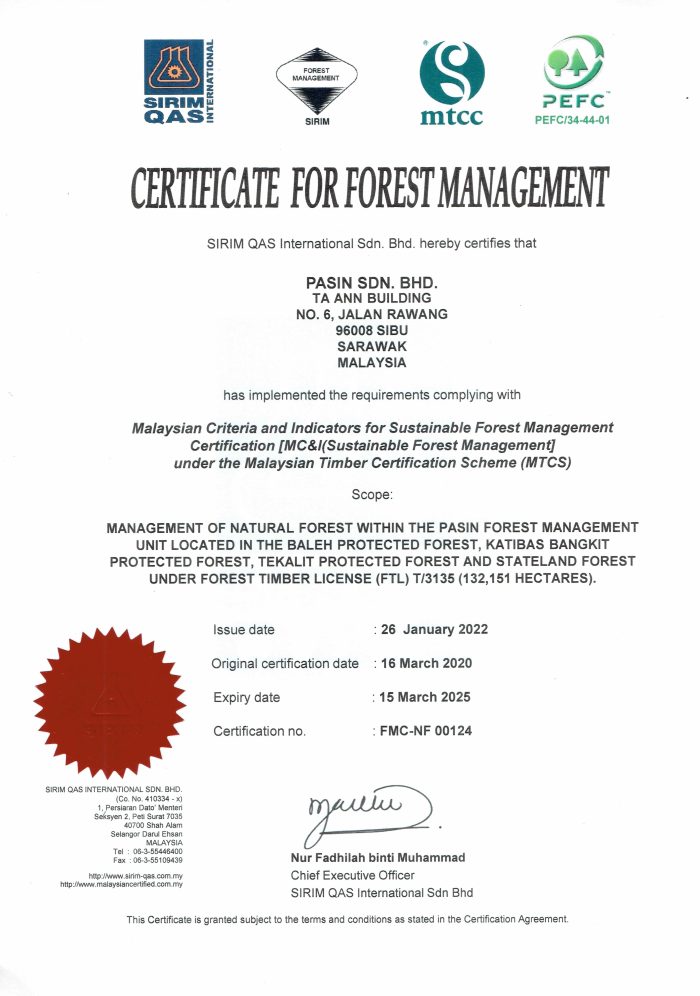 updated on 22 August 2022 by SFM Department