Pasin FMU has a total area of 132,151 ha. 22% of Pasin FMU is located under the gazette Protected Forest, 28% is under the proposed Protected Forest and the remaining 50% is currently under Stateland Forest status.
The Batang Rejang forms the northern boundary while the Kapit FMU borders it to the east. The western boundary is bordered along Sg. Katibas till it reaches the Lanjak Entimau Wildlife Santuary (LEWS), which straddles the international boundary of Kalimantan, Indonesia.
Pasin FMU is accessible by express boat or four wheel drive vehicles from Sibu town which take around 3-4 hours to reach base camp.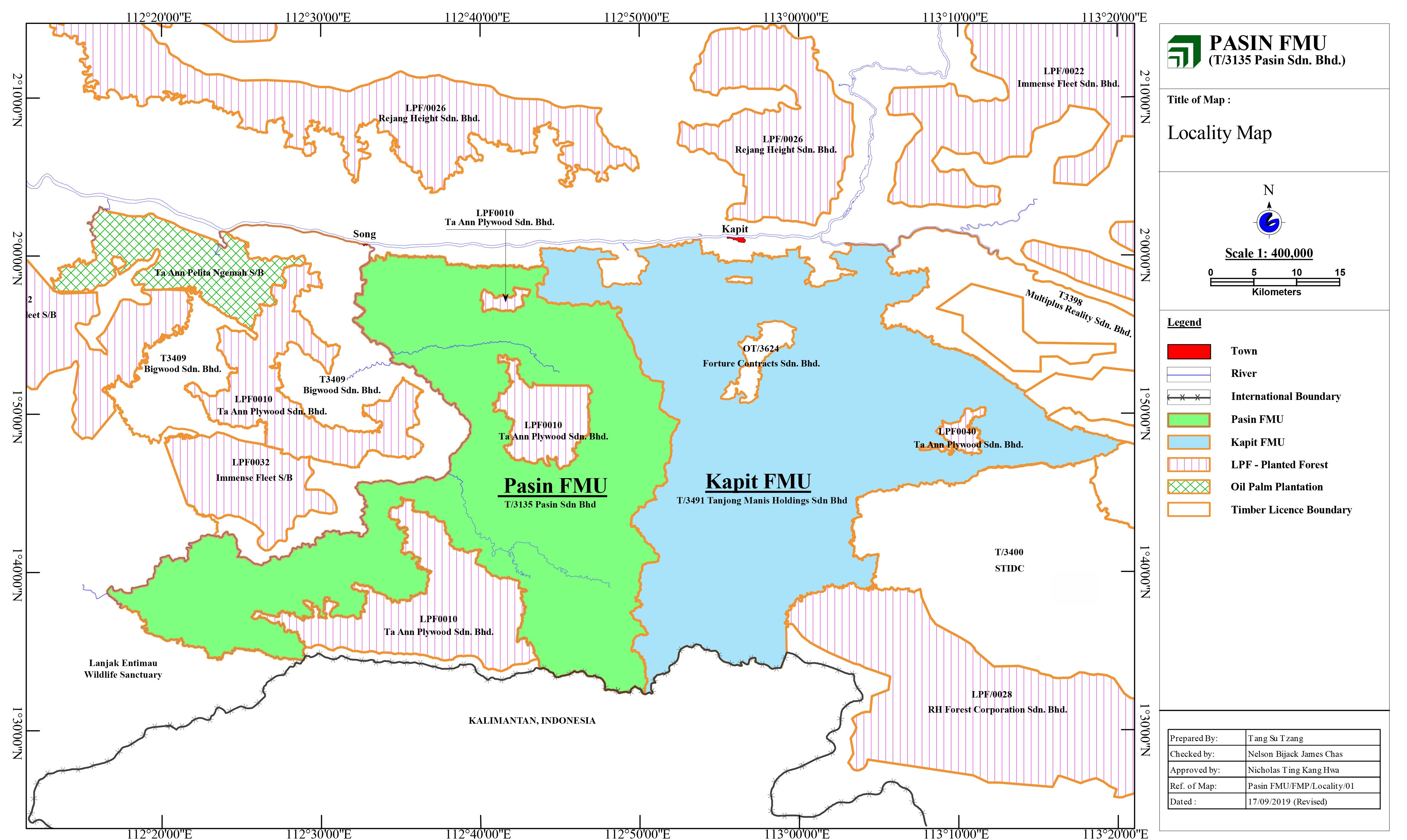 Forest Department Sarawak has renewed Forest Timber Licence No. T/3135 on annually basis and currently under review for the sixty (60) years tenure as an incentive for achieving and maintaining forest management certification as stipulated in Policy Direction for Forest Management Certification in Sarawak. 
The FMU is predominantly covered by mixed dipterocarp forest, while secondary forest formed by shifting agriculture and 'pulau' are found along the Bangkit, Bloh, Katibas and Tekalit rivers. 
Wildlife baseline assessment conducted by Ecosol recorded 12 mammal species from 9 families. Among the most commonly recorded were bearded pig and barking deer.  Presbytis frontata (white-fronted langur), Presbytis rubicunda (maroon langur) and Hylobates muelleri (Bornean gibbon) were recorded as endemic to Borneo.
Birds are commonly found in the Pasin FMU, with Magpie Robin (Copyschus saularis), White-Rumped Shama (Kittacinla malabaricus), Black and Yellow Broadbill (Eurylaimus ochromalus) and Black and Red Broadbill (Cymbirhynchus macrohynchos), are among the common birds found. 
The Pasin FMU contains undulating topography and is mountainous to the south where it meets the international boundary with Indonesia, with altitudes ranging from 75-880m above sea level (asl).
Approximately 50% of the FMU is located in the Heart of Borneo (HoB), a government and NGO supported programme led by the World Wide Fund for Nature (WWF), to conserve the biodiversity through a network of protected areas, sustainable management of forest and other sustainable land uses.
Social Impact Assessment indicates that Pasin FMU and its adjacent area are currently inhabited by 112 settlements which 54 settlements located inside and 58 is located adjacent 3 km from FMU boundary.
updated on 27 Oct 2021